Click and Edit
Edit. Save. Done. All without opening an entry form.
Maybe there's something you want to add to your entry.
Maybe you want to change that entry image.
Maybe you forgot to fix that typo.
...but you have to open that slow, long, complex entry form in the CP. Click, wait, wait, scroll, scroll, wait, type, save.
It doesn't have to be this way.
Henshu (a.k.a. Zenbu Edit) is a Zenbu add-on that allows you to select, directly from Zenbu or the native CP Channel Entries listing, exactly what you want to edit, without ever opening the entry form.
Henshu requires Zenbu and ExpressionEngine®. See the Zenbu description page for more information.
Get the Zenbu + Henshu (Zenbu Edit) Bundle for 120$ and save!
Get the Hat Trick Bundle: ALL THREE of Zenbu + Hokoku + Henshu for 180$
Demonstration
Main Features
Add On-the-Fly, Inline Editing of Channel Entries in Zenbu
With the Zenbu entry manager installed, a small edit icon

will appear when hovering over each entry data element, such as the entry title, date, status, author, custom field, etc. Click this icon to start editing! Save your changes and Zenbu updates the data!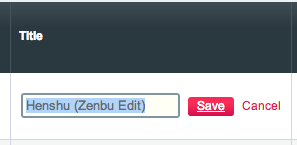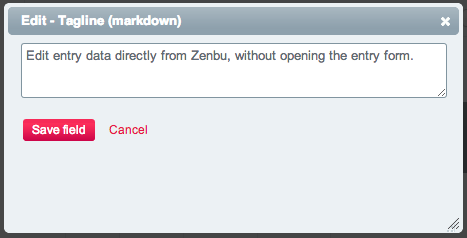 Edit the following directly from within your Zenbu entry listing:
Entry Title
URL Title
Status
Author
Sticky
Date
Expiration Date
Custom fields (displayed natively!)
...and more!
Select a few entry data elements at a time and start editing multiple entries!
Don't have Zenbu (yet)? Edit Single Custom Fields from the Native EE Channel Entries Listing!
Don't have Zenbu? (You're missing out on something amazing, by the way) Henshu works with the native EE Channel Entries Listing, too!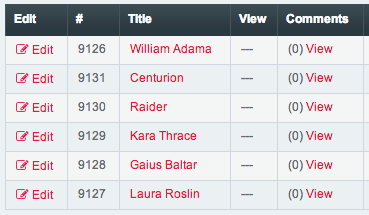 From the native EE Channel Entry listing, click the "Edit" link next to your entry, select the custom field you want to edit, and that custom field will be available for you to start editing. All without opening that clunky entry form!
Requirements
Zenbu (1.8.3+) is highly recommended to fully enjoy all the features Henshu has to offer.
Minimum requirement: ExpressionEngine 2.3.x
Last tested on: ExpressionEngine 2.9.0
Future Plans
More elements available for editing from the native EE Channel Entries listing
Reduced steps to multi-entry editing of custom fields.
​ Detailed Permissions for member groups, similar to what you can enjoy in Zenbu and Hokoku
Inline category editing
Use of a better API for reading and saving data