February 22, 2013 - by Nicolas Bottari

This week I released Zenbu 1.8.0, which contains a number of tweaks and new features based on user's feedback. Here's a roundup of the new features.
Saved Search Manager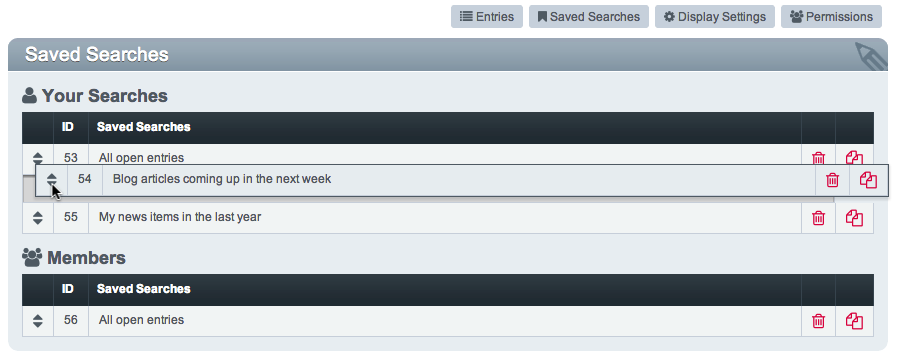 Up to now, you were able to save some searches made in Zenbu for later use, a handy shortcut to more complex searches without having to write every criteria each time. These searches were yours and yours only, and there was no way to copy these to a member group. Further, ordering meant deleting some searches and re-saving them so they appear at the bottom of the list. Same goes for renaming of searches.
Well not anymore. Starting with Zenbu 1.8.0, users are able to edit their searches in the new Saved Search Manager. To reorder saved searches, simply drag and drop them. To change a search's label, simply click on its name and make your changes. Your can also copy your searches to member groups, which is handy when preparing pre-made searches for your clients. Two new permissions in the Permissions section allow you to:
view your member group's searches in addition to your individual saved searches, and
manage searches for all member groups, as well as be be able to copy searches to other member groups.
As a side note, notice the small descriptions under each permission now. Hope that comes in handy 😉
Icons running on Font-Awesome

I decided to implement the icon set available at Font Awesome, since they are low-key and enhance the UI nicely. The spinner animation is great.
Mass-enabler in Display Settings

This was a popular request: a way to set some elements (eg. title, channel, status, etc) to display for all channels without having to actually go into each channel and check each box. Now, if you visit the All Channels section in Display Settings, some checkboxes will be available to allow you to check all entry titles (for example) as visible.
General Settings

Up to now, when you first loaded Zenbu, the first 25 results would be displayed. To display less (or more) than that required to modify one of the core files (which I don't recommend of course) but not anymore. A new setting, Default Limit, allows you to set the default number of entries displayed in Zenbu when landing on the page.
I also added Any Title or Basic Custom Field, similar to EE's native "Search titles and entries" filter, as a choice in the Default Rule Filter setting.
Assets 2 Support
Zenbu is now compatible with Pixel & Tonic's Assets 2 add-on, which is a major update from Assets 1. This also includes Assets 2-in-Matrix support.
Other Tweaks
Other notable new features are searching by url_title, more "contains/does not contain"-type options for entry title and url_title filtering, as well as a number of interface and performance tweaks.
Want more details? The full changelog for 1.8.0 is available. Hope you enjoy these new features!