December 10, 2013 - by Nicolas Bottari

Today, three of Zenbu Studio's add-ons were updated, two of which with new features.

The more boring of the three updates, but still important. A small maintenance update which fixes a number of issues especially related to EE 2.7+. If you happen to encounter errors (hopefully you won't!), those are also a bit more verbal now.

The major change for Henshu (a.k.a. Zenbu Edit) is the death of the whitelist. This is a bigger deal than it looks. There is a limitation in the way the native EE Channel Entries API works which forced ALL fieldtypes used in a channel to be whitelisted before being able to use Henshu with that channel. This restriction has been removed in version 0.7. Further, Henshu now precisely updates only the data it needs to update, instead of the old method where ALL data for an entry had to be curated and checked for integrity despite updating a single piece of entry data. In addition to this major improvements, the following features have been added:
Ability to edit an entry is now based on the EE permissions for the user. Requires Zenbu 1.8.5+.
Fieldtypes can be individually disabled in settings section: Fieldtype X is causing problems but you still want to use Henshu? Just disable that fieldtype.
Dialog sizes can be set for each fieldtype in settings section: Want more height/width on Fieldtype X's modal popup window? You can now set that to the height you want in Henshu's settings.
Permissions section: Control which member group has access to Henshu and its settings.
In addition to a number of bug fixes, here are the main highlights for the Zenbu update:
Better category add/remove functionality
Until this version, Zenbu actually sent users to the native EE multi-entry category editor for adding or removing categories to entries. This is now running in-house (except for final submission of changes, which EE still takes care of), and allows the display of extra information for easier category management:
A clearer display whether you're adding or removing categories
A list of your selected entries, for easy reference
Currently associated entries are listed next to each category
For removing categories, categories with no selected entries associated are greyed out. Less guesswork for which categories to select.
A convenient "Cancel" link to go back in case you change your mind.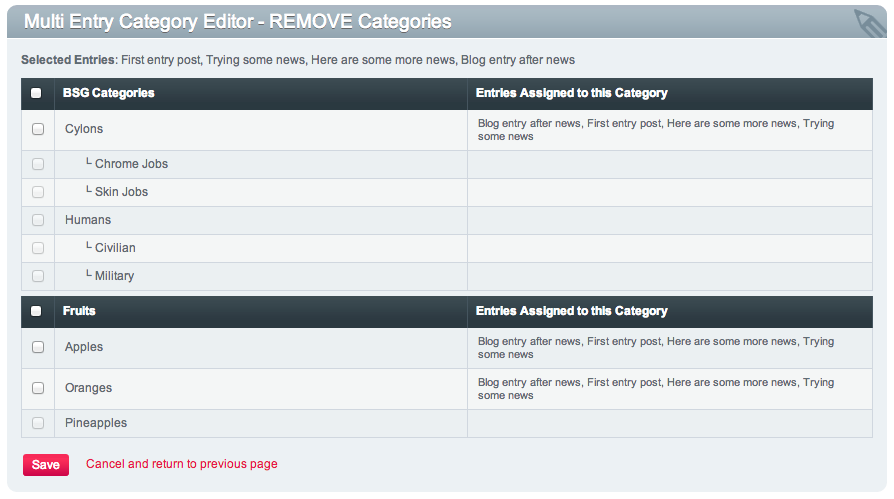 Pages URI display
At last Pages URI are displayed, as is, in their own column in Zenbu. They can also be searched on and ordered. Great for managing page-based content!
Show/Hide non-visible columns in Display Settings for easier management
Display Settings now has a button to temporarily show/hide columns that are set to not be displayed in Zenbu, leaving only columns set to be displayed as visible. Very useful if you need to get rid of visual noise to quickly view your visible fields. It makes shuffling the order of those visible columns around a lot easier as well.
Expanded:

Collapsed:

I would also like to take the time to wish everyone a wonderful Christmas and Happy Holidays. Thank you for all your support during the year, and please take some time to get some rest. It's as important as work!